Purchasing the right takeout containers is an important decision. Not only are also demonstrating to your customers and the community that your business is committed to making the most environmentally preferred business decisions, but you also have the opportunity to drive the takeout container market to provide more sustainable options at a lower price.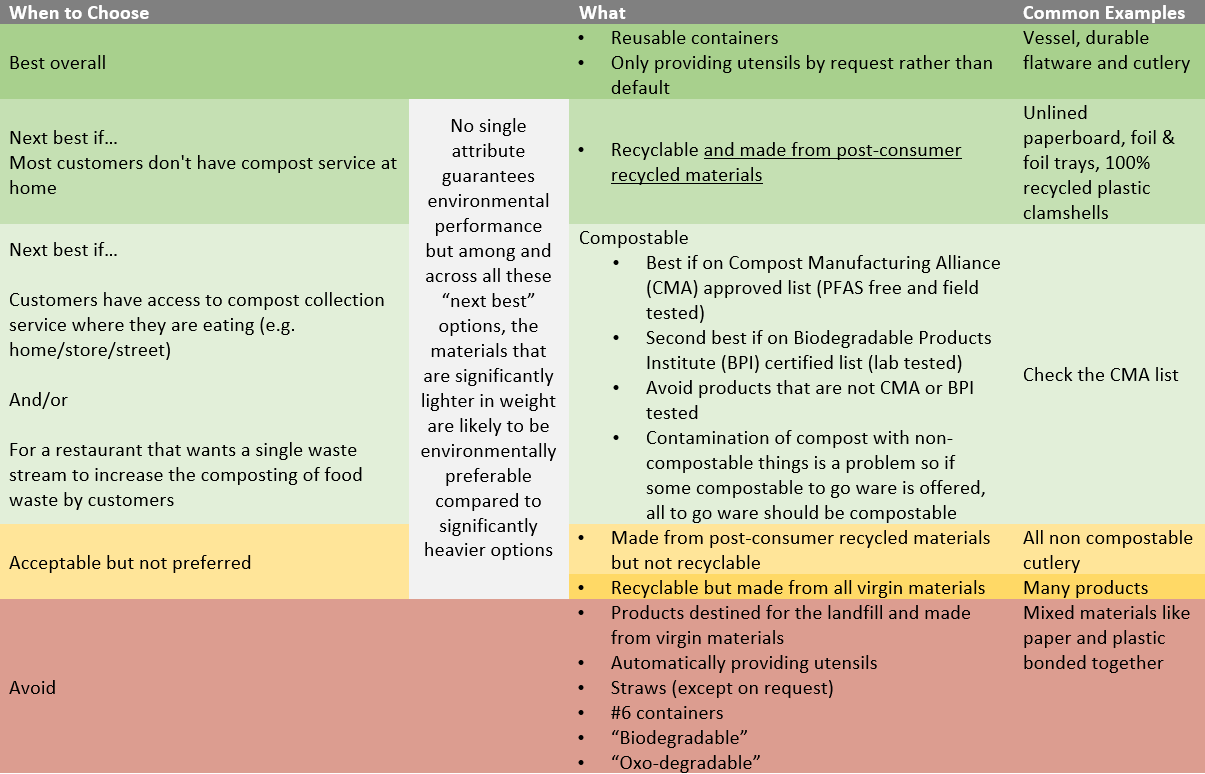 Reusing food serviceware and avoiding single use containers, utensils, and accessories is always the best option. However, for single use items, unfortunately, choosing the "next best" alternative can be difficult. There are a variety of factors to consider including greenhouse gas pollution, human toxicity, ecotoxicity, water conservation, resource conservation, ocean pollution, land use, fossil fuel use, and more. For single use food serviceware, the majority of the environmental impacts come from the material creation/extraction and production, not whether they are recycled, composted, or landfilled after their use. Also, being made from biobased or compostable materials, does not reliably mean that the products have a lower environmental impact. Materials and scientific research about them will continue to evolve but current scientific studies indicate that there is no single material that reliably predicts lower environmental impacts over an alternative product. In fact, compostable food serviceware generally has a worse environmental impact than other alternatives, except where it causes additional food waste to be composted. Also, once a product type and material is chosen, increasing the recycled content in that material has a reliably positive impact. This means that for now, compostability or recyclability should not be used as indicators of reduced environmental impacts, rather, the most appropriate product should be chosen given the specific conditions of the facility and community using the guide below.
For further reading on the subject, see the Oregon Department of Environmental Quality meta studies on foodservice ware lifecycle assessments and the Biodegradable Products Institute response.